Presenting My LiberaForms¶
As part of the release of LiberaForms 3 we are pleased to unveil something new for our global community.
Please welcome My LiberaForms at my.liberaforms.org
A public instance for a global audience¶
My LiberaForms comes with all the latest features, ready for you to create easy, flexible and privacy focused online forms.
Forms are publish with a web address like https://my.liberaforms.org/my-form
Create your free My LiberaForms account here.
Form showcase¶
Need to organize an event, make a survey or get information from your colleagues? It's easy to create and style your forms to match your style or your digital identity.

Built-in Privacy policy¶
Add a privacy statement to your form and managing personal data according to privacy-friendly criteria.
An assistant can help you write the legal text. By following some easy steps a privacy statement is generated for you to add to your forms.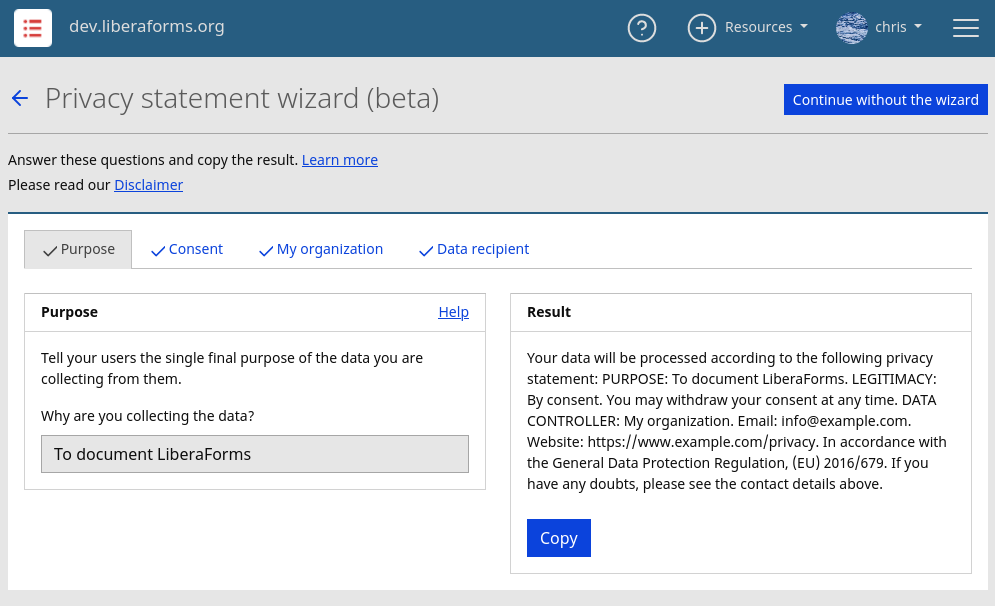 Combining a friendly form editor with a commitment to privacy it is now easier than ever to comply with privacy laws with this new feature that works for both individuals, groups and organizations.
Our services¶
We have tidied up our services and pricing model and added more volume of replies to the larger tiers.
For custom solutions, please contact us at info [@] liberaforms.org and tell us what you need so we can come to an agreement.
Do it your way! Try it now!
LiberaForms is Libre Software, you can install LiberaForms for yourself, use my.liberaforms.org, or make an account on one of our other local public instances.